Sun Shades, Louvres & Grates
Perforated Sunshades
Perforated screens can be manufactured into many different applications. Our custom designed sun shades are manufactured in highly durable aluminium and can be powder coated in any colour. It is also possible for them to be manufactured in mild steel, corten steel or stainless steel although aluminium is the recommended material for this external application due to its anti-corrosion and lightweight properties.
Sunshades and screens are effective at controlling the amount of sunlight that reaches the interior of a building which has the benefits of lowering cooling costs and being more energy efficient. They provide filtered, natural light, shade and privacy and allow for maximum airflow while also shielding interiors from strong winds and severe weather.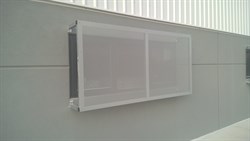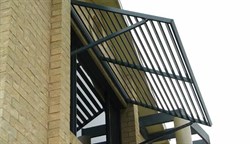 Louvre Panels and Grates
Aluminium panels, louvres and grates have a multitude of benefits, both functionally and aesthetically. Louvres and grates can provide functional benefits in screening off amenities or providing a barrier to separate work spaces. They can also simply provide an aesthetically pleasing façade on a building that adds depth and texture. In interior applications, louvres and grates can provide a cover for air conditioning units or vents without restricting airflow, or hide unsightly ducts or wires. They can also provide acoustic benefits in large ceiling cavities by reducing the bounce of audio waves.
Standard features of our sun shades, louvres and grates:
- Manufactured in Western Australia
- Made from highly durable aluminium
Optional Features:
- Can also be manufactured in mild steel, corten or stainless steel
- Made to measure; can be made in any size
- Can be powder coated any colour (extra costs may apply)All of our sun shades, louvres and grates can be custom made to client specifications.
Please email info@metalworksperth.com.au or call 9258 4355 for a no-obligation quote.